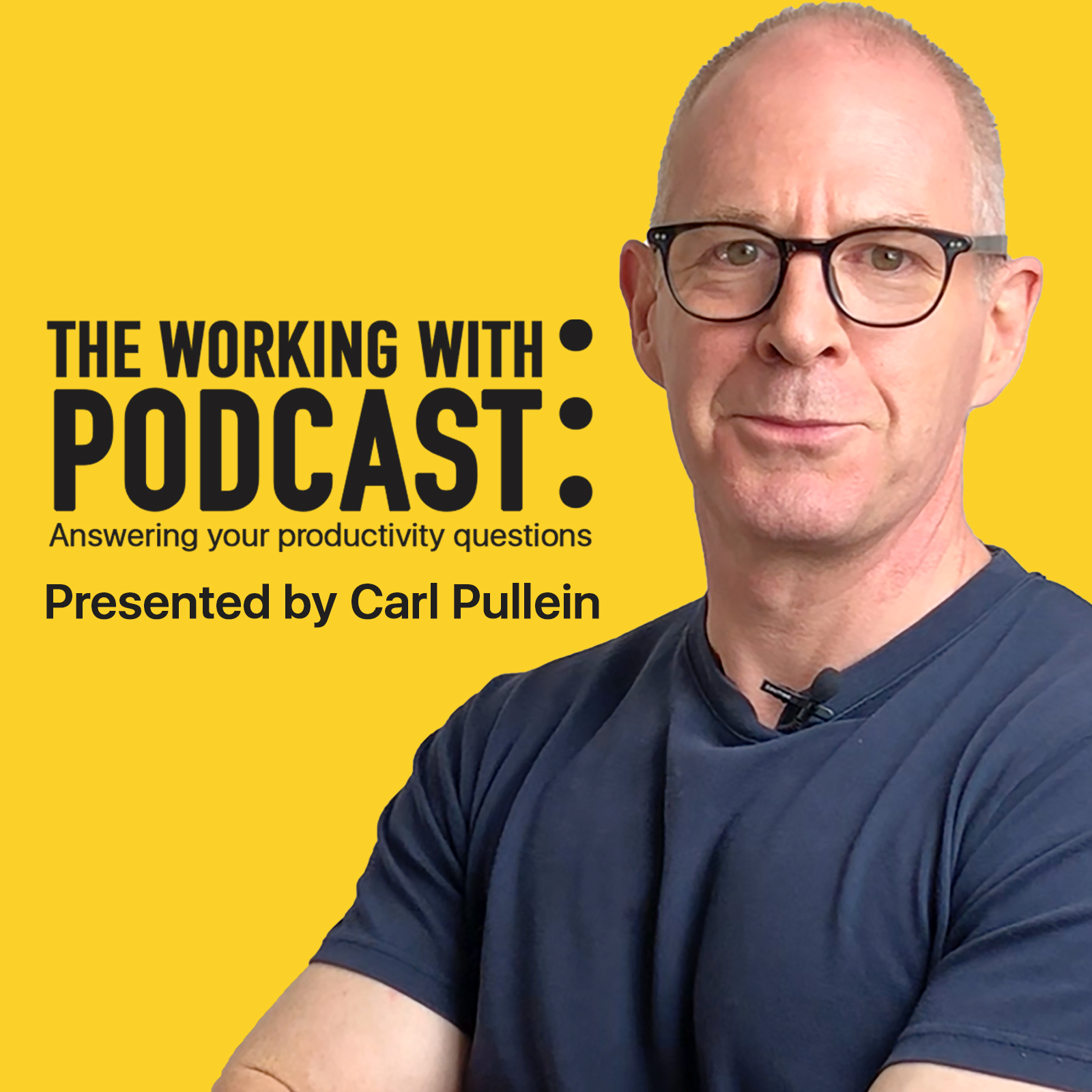 Podcast 121
This week we have a question all about apps and choosing the best combination of apps for you. 
Links:
Email Me | Twitter | Facebook | Website
Productivity Masterclass | Create Your Own Custom Workflow
The FREE Beginners Guide To Building Your Own COD System
Carl Pullein Coaching Programmes
The Carl Pullein Learning Centre 
The Working With… Podcast Previous episodes page
Script
Episode 121
Hello and welcome to episode 121 of the Working With Podcast. A podcast to answer all your questions about productivity, time management, self-development and goal planning. My name is Carl Pullein and I am your host for this show.
This week it's all about which apps to choose for your productivity system and how to choose them. With apps like Wunderlist and Newton Mail closing down, this week has been a timely reminder that the apps we choose for our system are important. Choose the wrong apps and you spend a lot of time having to transfer your information from one app to another when it closes down or becomes too expensive to manage. Choose the right app and your system and the app can now together. 
But before we get into this week's question don't forget if you are ready to move beyond the to-do list my Productivity Masterclass Workflow course will do that for you. This is a brand new course designed to teach you how to create workflows in your day so you create enough time to focus on the things you want to focus on.
Full details of the course are in this week's show notes. 
Okay, it's now time for me to hand you over to the mystery podcast voice for this week's question.
This week's question comes from Myke. Myke asks: Hi Carl, I am a very heavy Apple user, and I love their products. I think they could be the key to my productivity if utilised properly. I have an iMac at home, and iMac at work, a MacBook pro for when on the go, an iPad, and an iPhone - as well as multiple Homepods throughout my home. What productivity "stack" would you recommend for someone like myself?
Thank you Myke for your question. 
I've always felt the benefit of sticking with built-in apps is you are much less likely to have an app you rely on shut down on you. Just in the last couple of weeks, I've received notifications about two popular apps closing down. Wunderlist and Newton Mail (again) and this is certainly something that concerns me. 
Part of building a productivity system is consistency. The amount of time it takes to not only get your stuff into a system, and that time can be a lot, a more important element is the trust you have for that system. If you don't trust your system then it is not working. This means if you are planning on using third-party apps you need to make sure the apps you are using the companies behind them are structurally and financially sound. 
A couple of years ago I used Newton Mail as my email app of choice. It was wonderfully simple and minimalist and it had everything I needed in an email app. Then I got a notification to say they were closing down. 
Several months later, I was told they were starting up again and this time it would be different because they had a big financial backer. And then last week we were told they were closing down again. 
Fortunately, this time I was not going to make the same mistake so did not return to Newton. I set up Apple Mail on all my devices and while there are a few features that are lacking such as scheduled sending which I did use in Newton, it was no big deal and scheduled sending is rather less important than having an app that will not go away. Apple Mail has been a Mail app I have used for nearly twenty years and it is solid and dependable.
I also know a lot of people who invested time and effort into Wunderlist and we now know that will be closing down in May. That has been on the horizon for a while now, but the end date is finally approaching and if you are a Wunderlist user you only have three months to migrate to another app. 
This makes things difficult for other app developers. Trust is a big issue for anyone wanting to build a strong productivity system and if there is any uncertainty then people are not going to invest their time and money in an app that may or may not be around in five years time. 
Evernote is an app that I have used for over ten years. It has always been solid, dependable and has been a huge part of my digital life. Unfortunately, these days their lack of development and the competitive state of the notes app market with apps like Notion, Bear Notes and Apple Notes have created a huge mountain for it to climb if it wants to get back to being one of the top note-taking apps. The good news is Evernote is apparently cash positive and it does have a loyal following. My worry is if the updated Evernote does not meet customer expectations (which are incredibly high after more than a year of back end development) what happens next? 
I have found Evernote difficult to use on my iPhone since iOS13 came out so I have been using Apple Notes more and more and have now found workarounds for many of the things I used to do in Evernote that Apple Notes cannot do. Until recently, Evernote was one of the first apps I opened in a morning on my computer, now I open is only a couple of time per week. Personally I hope and pray Evernote's impending update will not disappoint, but if it does I already have a replacement at the ready. 
So what can we do? Well if you want to be completely protected the best advice I can give is go with the built-in apps. That means if you are in the Apple ecosystem where possible use the Apple apps. 
Apple Notes is a serious contender in the notes app market now. It's free and has an impressive set of features. The Apple Reminders update last September gave this built-in to-do list some much-needed love and now has quite an impressive feature set 
And Apple Calendar has been a solid calendar app for over twenty years. There are a few features it could do with, like the ability to allow people to book times on a public calendar, but it is a very dependable calendar app. 
Microsoft has a solid set of productivity apps too. Outlook is the industry standard for most companies when it comes to email and calendar and OneNote is one of the best note-taking apps out there. 
For your To-dos, Microsoft To-Do is likely to become a solid to-do list manager in the near future, particularly if it does incorporate many of the features Wunderlist had. 
And of course, Google has it's own Tasks and Keep and has probably the best calendar app out there
The problem with using these built-in mainstream apps is you do not get a lot of features and if something does not work properly it can be a long time before they are updated. But they are unlikely to disappear, they are simple to set up and simple to use. And in my experience, it does not take a lot of time to learn how to use them. 
That said, the biggest thing to remember is the app you use is rather less important than the system you set up. As long as the apps you are using are dependable and you allow enough time to learn how to use them then almost any app out there is going to do the job for you. App switching is time-wasting and can be a huge cause of procrastination. I've always said pick one app and stick with it for a year. That gives you enough time to learn how to use it properly and develop workarounds for the things you want to be able to do with it. 
My recent organisational change in my to-do list manager could easily be created in any type of app. So far I have shown how to set it up in Apple Reminders and Todoist and in the coming weeks, I plan to show how this could be set up in Trello and TeuxDeux. These apps are very different and yet a simple organisational system can be set up in any of them. That's why your 'system' is more important than the apps you are using. Another reason why your system is more important than the apps you use is if the worst-case scenario does happen and the app you are using shuts down or becomes prohibitively expensive, you can quickly and easily transfer your data across to new apps. 
So there is a lot to be said for using built-in apps. They are reliable, consistent and have just enough features to be able to do what you need them to do. 
Let's take the Google suite of productivity apps as an example. Given that all you need is a calendar, a to-do list manager, a notes app and a cloud storage drive. With Google, you have them all. Because of the way Google has added plugins and extensions to their Chrome browser, you can build an amazing productivity dashboard using Chrome. Gmail can operate your email, and if an email comes in you can quickly add it as a task to Google tasks or highlight a section in the email and add it as a note to Google Keep.
Another great feature of Google Keep is you can create mini (or full) checklists and all sorts of other types of notes and have them easily accessible as a side panel in your browser. 
Microsoft office also now allows you to add add-ons to Outlook so you have quick access to your calendar, to-dos and notes from your Outlook window. And of course, all your files can be stored in OneDrive. 
If I were to completely start again with building my own productivity system, given all my devices are Apple, I would set everything up using only the Apple apps. Apple's sharing functionality across all their devices makes adding tasks, notes and events incredibly easy and iCloud storage is cheap - $10 for 2 terabytes of storage. 
So, if you want to build your very own productivity system, today I would advise you to start with using the built-in apps your devices come with. If you are in the Apple eco-system like you, Myke, I would use Reminders, Apple Notes, Apple Calendar and iCloud. If I were predominantly a Windows user I would use Microsofts apps and if I were hybrid ie, my computers were Windows and my phone was either an iPhone or Android phone I would go with the Google set. 
Only after at least six months would I consider third party apps and would only change if I was having some serious difficulties managing my work with the apps I was using. 
I hope that answers your question, Myke. Thank you for the question and thank you to all of you for listening. 
It just remains for me now to wish you all a very very productive week.