Episodes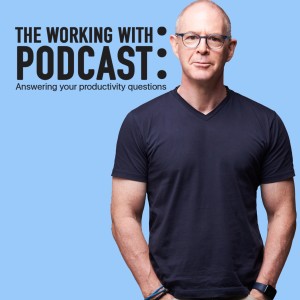 Monday Mar 06, 2023
Monday Mar 06, 2023
This week, are you being realistic about what you can get done each day? Most people are not. 
You can subscribe to this podcast on:
Podbean | Apple Podcasts | Stitcher | Spotify | TUNEIN
Links:
Email Me | Twitter | Facebook | Website | Linkedin
The Working With… Weekly Newsletter
The Time And Life Mastery Course
The FREE Beginners Guide To Building Your Own COD System
Carl Pullein Coaching Programmes
The Working With… Podcast Previous episodes page
Episode 266 | Script
Hello and welcome to episode 266 of the Working With Podcast. A podcast to answer all your questions about productivity, time management, self-development and goal planning. My name is Carl Pullein and I am your host for this show.
Most people'ss problems with time management and productivity are not actually problems with time management and productivity. The problem lies with being over-ambitious about what you can get done each day. 
I'm reminded of common phrases such as "biting off more than you can chew", and my favourite "your eyes being bigger than your stomach". It seems to be almost human nature to think we can do a lot more than we really can. 
Let's get realistic here.You are not going to be able to attend seven hours of meetings, respond to 120 emails and complete fifty tasks from your task manager today. If that's what your calendar, task manager and email is telling you, you've just deluded yourself and it means your system is broken—even before you've started the day. 
It's time to get real about what you are capable of doing each day. We can do a surprising amount of work in a day, but we need to be strategic and, more importantly, aware of our human qualities. Work to our strengths, rather trying to slog it out. 
So, without any further ado, let me hand you over to the Mystery Podcast Voice for this week's question. 
This week's question comes from Kirsten. Kirsten asks, Hi Carl, than you for all that you do. It has been a huge help in my life. I was wondering how you cope with all the work you have to do each day. I don't just mean work work, but all the personal tasks that need to be done as well. I find I never have enough time to finish everything I'm supposed to do. How do you keep your workload manageable?
Hi Kirsten, than you for your question. 
This is an issue I've spent many years struggling with. I used to believe I'd wake up each morning feeling refreshed, energetic and focused on what needed to be done. I'd get straight onto my tasks, be ready for my appointments and end the day with plenty of energy to attack my personal tasks. 
The reality is very different. There are days I wake up feeling refreshed and energetic, there are also days when I wake up feeling tired. 
And focused?—hahaha, that's a very rare occurrence. It's that old belief we have where we say, I don't feel great today so I'll skip exercise today and do it tomorrow instead. 
Sure, it gives you an adequate excuse for today, but tomorrow comes and you're desperately searching for another excuse not to exercise. We generally have very unrealistic ideas about how tomorrow will be different. It won't be, unless you get real about what is required to get the things done that you want to get done. 
And this is where we need to know what our limitations are. How much can you do each day, realistically? 
To give you an example from my own experience. I know I can do three fifty-minute coaching calls in one session. I learned that the hard way. In the beginning I would schedule four or five calls one after another (with a ten minute gap between calls).
After the third call, my voice was beginning to go and I was getting mentally and physically tired. I could do four, but the fourth one was a struggle. Now, I limit my call sessions to no more than three calls. 
That leaves me with sufficient energy to make sure my notes on each call are correct, and I am still capable of doing the other work I need to do that day. 
I would love to be able to do four or five calls straight, but realistically, doing so would leave me exhausted and unable to do the rest of the work that needed to be done that day. 
Often we don't have much control over the meetings we are expected to attend each day, yet I strongly advise that you find a way to be less available. You can do this by scheduling meetings with yourself on your calendar. Other people cannot see what you have scheduled, all they see is you are not available at that time. 
This means you can schedule focused work sessions if you wish, or just block the time out so you can get away from your desk for twenty minutes or so and get some movement in. That movement will give your brain a rest and leave you feeling ready for the next session. 
And that's another tip I would give you. Break your day down into sessions of work. While it might seem counter-intuitive to step away from doing work for twenty minutes or so between sessions, but it recharges your brain ready for the the next session. It's as if you close down one session, get a break and then start the next session. 
For example, set aside two hours or so in the morning for doing your most important work for the day. You are much more focused in a morning—even if you are a night owl. Your brain has its most energy in a morning. That energy is gradually depleted throughout the day. 
After two hours, step away from your desk and move. Get some sunlight, a drink of water or tea or coffee and then begin your next session of work. Make that session an hour. Then break for lunch.
After lunch try to schedule your meetings. Human interaction helps to avoid that 'afternoon slump', and gives you a different environment to work in. 
The way I break down my day is early morning calls—no more than two hours. Then I take a fifteen minute break, and then I settle down to a two hour creative work session. That's followed by breakfast (I do intermittent fasting so my eating window is between 11am and 7pm) Then it's back to my desk for around ninety minutes to do my smaller tasks for the day. 
The afternoon, for me, is all about activity. I'll take my dog for a walk, do my personal errands and exercise, before coming back to my desk around 5pm for an hour of communications—dealing with email and other messages. 6pm is dinner and from 7:30pm until 9pm I do my admin. 9:00pm to 11:00pm is call time. And then I close down my day and, all being well, be in bed for 11:30pm. 
That structure has evolved over the years. It works for me. I need to work in the mornings and evenings because of the time zone I live in. Being in the far east, I am 8 hours ahead of Europe, 14 hours ahead of eastern US and 17 hours ahead of the west coast of America. 
So, my afternoons, both Europe and the US are asleep. I'm never likely to have any meetings or "urgent" messages coming in at that time. 
I've tried all sorts of different structures, but trial and error has helped me to develop this structure. 
However, that means, I have five and a half hours each day to do non-meeting related work. That's more than enough time if… And the if is important here. 
If you plan out the day.
You see if you are not planning the day, your brain will plan it for you and your brain has no concept of time. Remember, the clock—hours and minutes—was developed by human beings. It's not nature. Nature works a much simpler day. Daylight and night. Your internal clock recognises only day and night. This is why we will over-estimate or under-estimate how long something will take to do. 
It's why so many people think a quick follow up call with take less than two minutes, when in reality you are often still on the phone fifteen minutes later. And why you think that presentation for tomorrow's meeting will only take an hour, and four hours later you're still struggling to finish it. 
I have a little analogue clock on my desk, and when I begin my session of work, I will look at the clock and tell myself when I will stop. For instance, when I began preparing this script, I looked at the clock and told myself I would finish at 1:30pm. 
Now, aside from my little dog telling me it's walkie time, I also have my little clock telling me how long I have left. That clock adds a little pressure and prevents me from being distracted by something else. I am here, sat at my desk and my focus needs to be on this script. 
Now when it comes to planning your day, it's all about knowing where you have time for sessions of work. If today were a Thursday, when I have three calls in the morning and three calls in the evening—I call Thursday my calls day—I would not have scheduled many tasks. In fact, I try not to have any tasks except for my routines and small catch up tasks on a Thursday. I know I will be tired from those calls and it would be pointless trying to get any creative work done. 
The problem with over-scheduling your day is when are you going to do those tasks you could not do? If tomorrow is already busy, when will you find the time to do them? You're only adding to your backlog. 
Now, this means we have to be very protective of our time. I know it's much easier to say "yes" than "no", but if your default position is yes, you are going to be overwhelmed. 
In the past, senior executives had secretaries—some still do but they are now called "assistants". These secretaries were not just there to type letters and documents. Their primary role was to act as gatekeepers. To prevent their boss from being interrupted. The best secretaries were exceptional at this part of their work. 
They made it incredibly difficult to make appointments with their boss. They protected their diaries so their boss had time to do their work and think. 
Today, most of these secretarial skills have gone with the secretaries, they are very rare today. This means we need to act as our own gatekeepers. To make it difficult to make appointments with you. 
This does not mean you have to "disappear" or be rude. It means you need to know when to be available and to whom and when not to be available. 
It's a an art form to "disappear" at times in the day, but it's an art worth learning and developing. It take practice and a fair amount of courage to become unavailable—particularly if you have a demanding boss. But, the trick is to begin slowing. Perhaps try thirty minutes in the morning and thirty minutes in the afternoon. Then as you gain the courage, increase that time. 
You'll be surprised how much work you get done when you know for the next thirty to sixty minutes nobody can find you. 
Ultimately, Kirsten, it comes down to knowing what your limitations are and planning the day ahead. It will take time to learn how much you can realistically get done each day, but if you stick with planning the day you will soon find it becomes much more manageable.
To give you a benchmark, I know if my task manager is showing more than twenty tasks for today, some of them are not getting done. If you are using Todoist you can go into the karma points area and see your average number of tasks completed each day. Add those up and divide it by seven. That will give you your average and will be a realistic number of tasks per day. 
When you do the daily planning, you want to be looking at this number. If it's too high, reduce it—look for tasks that do not really need to be done tomorrow and can be pushed off to another day. 
I hope that helps, Kristen. Thank you for your question and thank you to you too for listening.
It just remains for me now to wish you all a very very productive week.