Episodes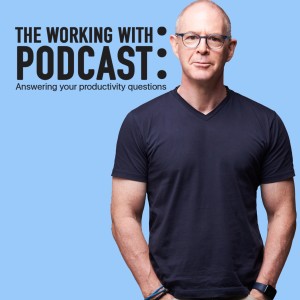 Monday Mar 20, 2023
Monday Mar 20, 2023
How confident are you setting up a project and delivering it on time every time? If you struggle in this areas, then this podcast is for you. 
You can subscribe to this podcast on:
Podbean | Apple Podcasts | Stitcher | Spotify | TUNEIN
Links:
Email Me | Twitter | Facebook | Website | Linkedin
The Working With… Weekly Newsletter
The Time And Life Mastery Course
The FREE Beginners Guide To Building Your Own COD System
Carl Pullein Coaching Programmes
The Working With… Podcast Previous episodes page
Episode 268 | Script
Hello and welcome to episode 268 of the Working With Podcast. A podcast to answer all your questions about productivity, time management, self-development and goal planning. My name is Carl Pullein and I am your host for this show.
Completing our personal projects is something we all frequently find difficult. This is largely because there's usually nobody holding us accountable and we don'r have access to the same resources our companies will have. However, it does not have to be difficult if we follow a simple formula. 
I've spent many years studying how NASA went from a seemingly impossible challenge to successfully landing Neil Armstrong on the Moon in 1969. 
When that project was first floated by President Kennedy in May 1961, NASA lacked the knowledge of whether humans could survive in space, they were struggling to get a rocket off the ground, and the nobody had left the confines of Earth's orbit. Yet, eight years later, Neil Armstrong spoke those infamous words: "That's one small step for man. One giant leap for mankind".
Now it's true that NASA did not have to worry about resources, Congress gave them the money to make this happen. But it was not all about the money. Sure, that helped, but the technology still needed to be invented, scientists had to work out how to get a spaceship out of Earths orbit and into the Moon's orbit and they needed to know if humans could survive in space and if so, how. 
I've always been a believer in finding the success stories and then breaking them down to their component parts to understand how the success happened. It's why I know there is no such things as an overnight success, there's much more to completing a project than being in the right place at the right time. 
And with the Moon landings, everything is there to show you the roadmap towards completing a project—or a goal for that matter—all we need to do is break it down. And that is what we will do in this episode.
So, let me now hand you over to the Mystery Podcast Voice for this week's question.
This week's question comes from Jonathan. Jonathan asks, Hi Carl, one thing I really struggle with is working on my personal projects. I have some home improvement projects that I've had on my list for years and I just never seem to get around to doing them. Do you have any tips on getting these projects done? 
Hi Jonathan, thank you for your question.
Firstly I must start by saying this is something very common and you shouldn't beat yourself up over this, Jonathan. The good news this is an opportunity to develop skills. 
Now, let's begin with what I talked about a moment ago with the clarifying sentence. I used to talk about this as the clarifying statement, but somehow the word "statement" invited people to write line after line of words defining what the project was. No. That's not what you are trying to achieve here. What you are looking for is a simple sentence that gives clarity on what you want to accomplish with the project. 
Going back to the John F Kennedy sentence setting the parameters of the Moon landing project when he stood before Congress and announced that the US;
"should commit itself to achieving the goal, before this decade is out, of landing a man on the Moon and returning him safely to the Earth." 
Twenty-six words that set NASA on a course that captivated the world. Those words were clear, contained a deadline and left no-one in doubt about what was to be achieved.
Now, Kennedy was no scientist. He was a student of government and international affairs. Certainly nothing that gave him a deep knowledge of the science and engineering feats required to land and walk on the moon. 
But that didn't matter, Kennedy was the leader, not the implementer. There was a reservoir of talented, motivated scientists and engineers ready to take up the "challenge" and turn Kennedy's project outcome into a reality. 
Now, depending on the size of the project you are attempting to do, Jonathan, you may need to reach out for the skills you do not process. For instance, one of your home improvement projects could be to build a conservatory onto the side of your house. Now, unless you are a builder, you are not going to have the know-how or skills to build the conservatory—you are going to need to hire outside help. A builder and an electrician are likely to be your first requirements. 
Plus, you may need to hire an architect to draw up the plans for you. 
So, this means you will need to "secure the funding" for the project. Now, Kennedy assigned this part of the project to his Vice President, Lyndon Johnson, who pushed Congress for the necessary funding. 
Now, if I were to undertake building an extension to the side of our house, I would need to "Secure" the funding somehow. That could come from my savings or I may need to talk to the bank for a loan. Either way, because I would need to hire experts to do the work, I would need funds, so before anything started on the project I would need to get some estimates on how much the project would likely cost. 
One area where I find people waste time with project planning is to sit down and plan out the whole project step by step. In my experience, I find there's always time to plan the next steps, but planning can and often does become the source of procrastination. There's too many unknowns and if you really want to get the project off the ground take the first logical step. 
To write a book, start writing the first draft. Don't worry about publishers, writing applications, chapter headings or book cover designs. Until you have a first draft you are not going to have anything to work with anyway. 
Similarly with your home improvement projects, you will need a budget, so get the quotes and estimates together. That will give you the right information to proceed to the next step. 
With the Moon landings, NASA broke the project down into three parts. There was Mercury, where they wanted to learn what was required in order to get humans into space. Then came Gemini, where they learned all about rendezvousing with other spacecraft and doing space walks, and finally Apollo, which was the part of the project that took humans to the Moon. 
Each part of the lunar landing project had its own set of objectives. Whatever project you are working on, will be the same. The first part could be to secure the funding. The second part may involve hiring the right people to do the work, and finally the construction part. Each part will have its own outcome, but ultimately, the overall project sentence will guide you. 
For example, if you want to have the conservatory built by the summer, and you have three months until the summer begins, each part of your project will need to be broken down to meet that deadline. If, when you get the estimates, you are told the builders will require eight weeks to complete the work, then that leaves you with four weeks for the other parts of the project. 
When we moved to the East Coast of Korea, my wife and I first sat down to decide how we were would do it. Our initial plan was to spend three months living in a guest house in the area we wanted to move to. These three months confirmed we definitely wanted to proceed with the project and we extended our stay in the guest house until the end of the year. 
During that time, we began looking at properties and working on our budget. We decided on our new home in October and as it was still being built, we were given a moving in date on the 20th December.
That gave us almost three months to put into action the second phase of our project—which was the interior design and furniture. And then the final part of the project was to move in. 
Looking back at my original notes for that project, very little went according to that initial plan. But one thing did not change. The deadline (by the end of the year) and the move itself. The initial action was to move to the area we wanted to live in for three months and we did that within two weeks of making the decision to proceed. After that plans changed, but the outcome did not. 
There's always going to be delays, issues to resolve and changing plans. That's to be expected. However, if you have been clear with your project sentence, and you stick to your overall deadline for the project, you will push yourself to get things moving. 
And problems and issues will always arise. That's part of life. With the moon landing project, tragedy struck on the 27th January 1967 when during a test on the new Apollo programme (the third phase) a fire broke out in the astronauts cockpit instantly killing the three astronauts. Gus Grissom, Ed White, and Roger Chaffy were killed in the tragic accident and all manned flights were stopped, just three years before the project deadline while a full investigation took place. 
NASA, continued developing the programme, as information from the tragedy came through, changes were implemented and by the time the final investigation report came through, almost all its recommendations had been implemented. 
Hopefully, nothing as tragic will happen with your projects, but problems and issues will inevitably arise. While you are dealing with those issues, what could you be doing to make sure they the issue does not delay you from your final deadline? 
For instance, there could be a materials shortage and there may be a two week delay to receiving some of the materials needed to build your conservatory. What could you do so that when the material is available and delivered you minimise any further delays? 
And finally, you need a competitor or villain. For NASA and the United States, the villain and competitor was the Soviet Union. When NASA began the project to land on the Moon, The Soviet Union had already been the first to put a man in space and had launched the first satellite, Sputnik. NASA was still struggling to get a rocket to lift off without exploding. 
The introduction of a villain or competitor brings energy to the project. Now, of course, with our personal projects it's unlikely you will have a competitor. However, the reality is you do. The competitor is you. 
The reason most of us fail with our personal projects is because of us. We are our own worst enemies. If you want to go deeper, it's comfort that stops you from completing your projects. We naturally don't like change and we always default to our comfort zone. But if you really want to complete these personal projects, whether they are home improvements or buying a new house, you will have to get uncomfortable. 
The way I deal with this is, it to turn whatever comfort I am defaulting to into the enemy. At its simplest level that comfort could be the sofa. I never let the sofa beat me. No matter how inviting and seductive the sofa tries to be, I will still go out for a run when it's raining. The sofa will never beat me. That's my mindset.
And it's an easy mindset to develop. First identify the comfort, then look at it and tell it that it will never beat you. You will always win.
If you find yourself procrastinating, externalise it by writing Procrastination in big words on a piece of paper and stare at it as if it was your worst enemy and tell it it will never ever beat you. 
Steve Jobs invoked this strategy. First it was Microsoft and IBM, then it was Intel. With Steve, there was always an enemy to galvanise his employees. Today, Tim Cook does it with Samsung and Android. 
Interestingly, because there was a clear competitor and enemy for NASA in the 1960s, their staff were highly motivated and focused on winning. They were making history and that was enough for them to succeed. NASA never needed table football tables (Fuzzball), nap pods, massage rooms or any of the other crazy benefits for their employees. Having a clear outcome, a strategy and a defined enemy was all that was needed to keep their employees focused, happy and engaged. 
So there you go, Jonathan. I hope that has helped. I strongly recommend the documentary film Unsung Heroes, The Story Of Mission Control and Tom Hanks film Apollo 13. Both of these films will inspire you and give you everything you need to finally complete all those projects that you are stalling on.
Thank you for your question and thank you too for listening. It just remains for me now to wish you all a very very productive week.