Episodes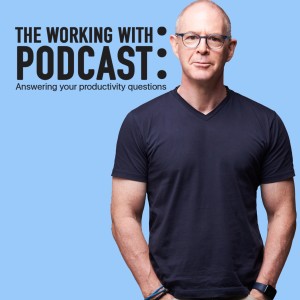 Monday Feb 13, 2023
Monday Feb 13, 2023
Podcast 263.
This week, we are looking at the humble task manager and at how to get the most out of it by getting back to basics.
You can subscribe to this podcast on:
Podbean | Apple Podcasts | Stitcher | Spotify | TUNEIN
Links:
Email Me | Twitter | Facebook | Website | Linkedin
The Working With… Weekly Newsletter
The Time And Life Mastery Course
The FREE Beginners Guide To Building Your Own COD System
Carl Pullein Coaching Programmes
The Working With… Podcast Previous episodes page
Episode 263 | Script
Hello and welcome to episode 263 of the Working With Podcast. A podcast to answer all your questions about productivity, time management, self-development and goal planning. My name is Carl Pullein and I am your host for this show.
Since even before the Ivy Lee Method was first used in 1918, listing out your tasks for the day has been a common way to manage all the things you have to do. Externalising what needs to be done, is a tried and tested method for managing what we do each day. When you combine a well managed task manager with a calendar, you have a very powerful way to get your work done and to have time for rest each day.
Now, as usual we humans are incredibly destructive. For some weird reason we seem to hate simplicity and love to over complicate things until they are destroyed. 
A classic apocryphal story that illustrates this is during the space race, both NASA and the Russians were having difficulty finding a writing implement that worked in a zero gravity environment. The traditional pen needs gravity to work and when you take gravity out, the pen will no longer work. 
NASA spent millions of dollars researching this. Yet the Russians spent nothing and solved the problem. The Russian space agency gave their astronauts pencils. Pencils don't need gravity. 
This week's question touches on this problem of over-complexity and I will give you some ways to get things back to a more simple footing so you can focus more on doing your work and spend less time organising your work.
So, with that said, let me hand you over to the Mystery Podcast Voice for this week's question.
This week's question comes from Thomas. Thomas asks; Hi Carl, I've recently been watching a lot of YouTube videos on using task managers. I like the idea of keeping all my tasks in one place, but it's so confusing. There's so many different ways to use a to-do list I just cannot figure out which is the best one. Do you have any recommendations? 
Hi Thomas, thank you for your question and yes, you are right; it is very confusing. 
The problem here is everyone will have a different way to manage their work. This is in part because we are all different (which is a good thing), and we all do different types of work. While you might have a generic job title such as a doctor or dentist within those generic titles there are a multitude of different disciplines. 
Another problem is we now have many more options than using a piece of paper and a pen to write out what needs to be done today. Now the task manager has been digitalised, developers can add features to differentiate themselves from other developers building task managers. 
It a combination of these two factor that has inevitably led to things becoming overly complicated. 
But let's just push back the complexity and look at what a task manager needs to do.
A task manager needs three areas: An area to collect things, an area to store things and an area that tells you what needs to be done today. 
Anything else that adds to that is just adding complexity. Now task manager developers can easily create something with those three areas that works well. Unfortunately, for us, that would be boring and so we now have flags, tags and filters (and a whole lot more in many cases)
Now these can be useful, but they are definitely not essential. 
So, how can you make a task manager work effectively?
Well, understanding the three areas would be a good start. Let's look at these individually. 
First you need to be collecting all your commitments, tasks and anything else you need to do in your inbox. It's no good collecting some and leaving others in your head. This is not something you can do half-heartedly. Either you go all in or don't bother at all. 
Your head is the worst place to remember what needs to be done. It's not designed to store information. It's designed to recognise patterns. We use all our senses to do that. Sight, taste, smell, touch and sound are our primary pattern recognition senses and the ones used every day. We would immediately think something is wrong if we go outside when there's a blue sky and the sun is shining, but when we do step outside we get wet. There's an interrupt in the pattern and our brain alerts us to something not being right and our fight or flight reaction will engage. 
That's where our brains work incredibly well. 
If someone gives us a random series of numbers that do not fit a pattern (such as giving us a telephone number) we will struggle to remember them. Give us a series of numbers such as 1,2,3,4,5,6,7, and we will remember—we recognise the pattern. 
So the first thing to do if you want a task manager to work is to collect everything and not trust your brain to remember to do the task. 
The second area of a task manager is the storage area. I like to think of this as a holding pen for tasks I have not yet decided when I will do them or are not due today. 
If we were not organising tasks into holding pens, our inbox—the place you collect your tasks—would soon be swamped. Once that happens you stop looking at it and it becomes a waste of time. 
This means every 24 hours or so, you want to be clearing out your inbox, making decisions about when you will do a task and storing them in appropriate holding pens. 
Now, there's a lot of variability in how you organise your tasks. For instance, I organise my collected tasks into time sectors—ie when I am going to do the task. For me, all I want know is whether I will do the task this week, next week, this month, next month or sometime in the distant future. 
Other ways to organise your tasks would be by context. This is more commonly known as the GTD method (Getting Things Done) Here you would organise tasks by what you need to do the task—such as a computer, or where you would do the task—in your office or at home, or person, such as your boss, partner or colleague. 
The truth is you can organise your tasks in whatever way you want. The important thing is; the way you organise your holding pens needs to work for you. 
The thing about these holding pens is you do not work directly from them. They are simply storage areas. They are for planning purposes only. 
In my coaching programme, I can quickly tell if a client does any planning by where they choose their next task. If they are in and out of their holding pens looking for tasks to do, that's a clear indicator that no planning is being done. Essentially, you are planning every time you complete a task and move on to the next one. 
This means instead of spending thirty minutes or so on at the end of the week doing a weekly plan, you are doing micro planning between tasks and that adds up to a lot more time than thirty minutes over the course of a week. It's a very inefficient way of managing your tasks. 
It's a little like working in a shop. If you do your planning, the stock you need is right there in the shop on a shelf where the customer can pick it up, bring it to the counter and pay for it. It's a seamless, efficient way to conduct your business. 
If you don't do your stock planning, a customer would come in, ask you for a particular product and you would need to walk into the warehouse, find the box the product is in and bring it to the counter. It's incredibly inefficient and will leave you exhausted. And yet, according to statistics, 93% of people are doing no weekly planning. No wonder there are so many exhausted people.
The final part of your task manager is your today list. It's this list that needs to be kept clean and tight. It must show you only the tasks that need to be completed today and not anything you might like to do. This is what I like to refer to as the business end of your task manager. If you do have extra time at the end of of your list, by all means go into your holding pens and look for a few tasks you can clear before the next day—or better still, take some well deserved rest. 
If you are collecting everything and doing your weekly and daily planning, when you start your day and open your today list, you can be confident that the tasks on this list are the only ones that need concern you today. 
When you have your task manager working in this manner, where you collect everything, process what you collected into their appropriate holding pens, (or delete the things that are no longer relevant) and you work primarily from your today list, you will find getting through the day Is easy. 
You won't feel as mentally exhausted because you are not doing mini-planning sessions between tasks,—which is a real drain on your mental resources—and you find you flow from one task to another. 
There are other strategies for managing your today list. For example, group similar tasks together so you are not switching your focus. This means if you have five or six calls to make, block an hour or so out and sit down and do them all together. Respond to your actionable emails all at once—as late in the day as you can as that prevents email ping-pong.
Now the problem we all face today is in the competitive world of productivity apps the only way for developers to distinguish themselves from their competition is to keep adding features. We now have flags, which to be honest is quite useful, tags and labels, filters and multiple different views. 
While all these extra features may seem nice, none of them actually help you to do your work. We cannot do multiple tasks at the same time. I cannot make two phone calls at the same time nor can I write three articles. I can only do one task at a time. This means for me to be at my most focused, all I need to know is what to work on now, and then get on and do it without being distracted by what I need t todo next.
If I have a lot of random tasks on my list, I've just slowed myself down because now I have to decide what to do. And human nature being what it is, I'm likely to pick the easiest task—just to complete a task and get the dopamine hit. 
This is a terrible way to do your work. You are at your best in the morning and that is the time to tackle the hardest tasks, leaving your easiest tasks to later in the day when you are not going to be at your best. 
So, Thomas, if you want to remove all the complexity, focus on the three areas of your task manager and make sure you get those parts working well for you. Ignore al the extra features—they may become useful later, but if you are starting out, focus your attention on collecting everything—make that a habit. Don't overthink how you structure your lists, folders etc. These are holding pens for when you do your planning, and make sure you spend enough time dong the work to clear your tasks each day. 
I hope that has helped, Thomas. Thank you for your question. And thank you to you too for listen.
It just remains for me now to wish you all a very very productive week.