Episodes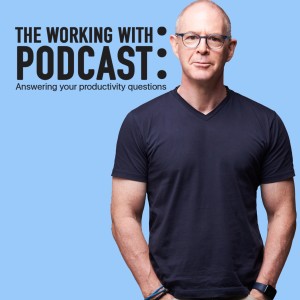 Monday Jan 30, 2023
Monday Jan 30, 2023
This week's question is all about getting the most out of your calendar. The most powerful tool in your productivity toolbox, yet surprisingly the least spoken about. 
You can subscribe to this podcast on:
Podbean | Apple Podcasts | Stitcher | Spotify | TUNEIN
Links:
Email Me | Twitter | Facebook | Website | Linkedin
The Ultimate Productivity Workshop
The Working With… Weekly Newsletter
The Time And Life Mastery Course
The FREE Beginners Guide To Building Your Own COD System
Carl Pullein Coaching Programmes
The Working With… Podcast Previous episodes page
Episode 261 | Script
Hello and welcome to episode 261 of the Working With Podcast. A podcast to answer all your questions about productivity, time management, self-development and goal planning. My name is Carl Pullein and I am your host for this show.
The humble calendar has been around for a very long time. And there are many iterations too. There are seasonal calendars still used by many farmers to the little electronic calendars on our phones. It always strikes me as odd that when you do a search for productivity apps, all you get are task managers and notes apps. 
Yet, if you don't take control of your calendar, you will always be running out of time, missing meetings and chasing the elusive goal of being "finished". 
It's your calendar that will never lie to you. It gives you the twenty-four hours you have each day and you get to design how you use those twenty-four hours. 
In my opinion, your calendar beats all other productivity tools and apps because it's the only tool you have that will tell you where you need to be, when and with whom. 
Now, just before I hand you over to the Mystery Podcast voice, I just want to give you a heads up that there are still a few places left for February's Ultimate Productivity Workshop. 
Beginning on Friday 3rd February, and for the following three Fridays, I will be doing a ninety minute workshop that takes you through the process of building your very own productivity system—a system that works for you. We will start with the calendar, then go on your task manager and managing your communications—email and messages and end by bringing everything together.
This is a wonderful opportunity to join a group of likeminded people who together will help you to overcome any obstacles you may have and to bring in some solid practices that will serve you over the years to come. 
The focus of this workshop is on you. I want you to bring your productivity and time management issues so we get real life experiences and to develop methods and processes to ease these issues so they no longer create a bottleneck or obstacle to taking control of your time and you life. 
I hope you can join me. I'm so excited to being able to help you and others build their Ultimate Productivity System. 
Full details for this event are in the show notes. 
Okay, now it's time for me to hand you over to the Mystery Podcast Voice for this week's question. 
This week's question comes from Lisa. Lisa asks, Hi Carl, I've see a few of your videos on how you use your calendar, and was wondering if you have any tips for someone who works in a typical office and struggles to find time to get on and do my regular work in between a lot of meetings and interruptions. 
Hi Lisa, than you for your question. 
I think we need to address the elephant in the room first. Allowing your calendar to show you are more available than you really are. 
For many of you working in an office environment where your boss and colleagues can see your calendar—or at least when you have availability—it can be hell trying to organise your day. When your boss or colleague is attempting to set up a meeting, they are not concerned with how much work you have to do, they just want to schedule a meeting and ultimately the day and time will be set according to when everyone is available. 
This means if your calendar is showing you free at 9:30 am or 1:30pm (a common free time for most people) that's when meetings are likely to be arranged. 
Now the problem here is 9:30am is the best time to get down to some focused work. You're much more likely to be fresh and alert at that time and less susceptible to distractions. My advice to anyone who wants to get better at their time management is to block 9:00am to 11:00am for their most important work of the day. 
Equally, if you get outside at lunchtime for twenty to thirty minutes, you are going be fresh again when you return—well perhaps not if you've had a high carbohydrate lunch—but for most people, the early afternoon can result in another good focused session. 
These times should be protected at all costs. 
Of course, you may not always have control here—some departmental meetings are set for early Monday morning and later Friday afternoons, but you can still block time out on a Tuesday to Thursday for focused work. 
Just giving yourself a few hours each week for focused work time will often give you enough time each week to get the bulk of your work done. It doesn't have to be every day. And all you need to do is block the time on your calendar. I call these session by what I will do in them. For instance, I have a two hour writing time block on a Monday morning I also have a three hour audio/visual time block on a Friday morning where I record and edit my videos. 
Now, If you are a boss, I beg you to implement a no meeting day each week. It might not be convenient, but the amount of work your team gets done on the no meetings days will astound you. There's something about knowing you are not going to be disturbed that will allow your team to plan what work needs doing and they will be a lot more focused. 
Another tip on calendars is to have a master calendar. By this I mean have at least one calendar that shows everything going on in your life; both personal and professional. 
Now, in an ideal world you will be able to subscribe to your work calendar on your phone or personal computer (not work computer) and you can then add this to your personal calendar. This way you will see everything going on in your life. 
This is important because your dental, doctor and physical therapy appointments, for example, are not going to happen before or after work. You need to see these with your work calendar. Equally, you may need to pick up your kids earlier some days or there might be an event in the evening you need to leave work a little earlier for. If you separate your work and personal calendars, you are inevitably going to miss these when you do your daily and weekly planning. 
Now, I subscribe to the belief that we live one life and our work is just a part of that one life. And if you think about it, we work on average 40 hours a week. Well, that's only 24% of your total week. When you separate your work and personal calendars—ie you have them on different devices, because your work calendar is the most dynamic—the one that changes the most—it will be this one that dominates your life and that isn't good. 
Balance is created when you see you life as a whole. Where you can see, on one screen, your work and personal commitments. This is how you avoid overwhelming yourself and being constantly late for meetings and appointments. You can see quite clearly how much discretionary time you have and how much of your day you have committed to meetings, appointments and other commitments. 
Now this might be a good time to remind you of the time -v- activity equation. Of the two sides to this equation, only one is flexible. Time, is fixed. You cannot change that. Now within those twenty-four hours, you need to eat and sleep—that's going to eat up more of your 24 hours that your work. You will likely need around ten hours for sleeping and eating. Throw in showering, brushing your teeth and you are looking at 11 hours of you day taken up already. 
It's up to you to decide what activities you will do each day. That's the only part of the equation you can control. Delegating that control to other people is going to leave you miserable and you will feel your life is out of control. It's not a pleasant feeling and is often a cause of all sorts of mental health issues. 
Now how do you take control? 
Well, the first thing to do is to create a new calendar and call it your "perfect week". This is your ideal week. You want to go into as much detail as possible here. Don't just block out your work hours, for instance. Instead, block out focus time blocks, commuting time (you're idea commuting time) and other work related items you would like to do each week such as project days, catch up days and prospecting time or creative time. Whatever time you need for doing your work. 
You also want to scheduling in your exercise, family and relationship time as well as time for working on your hobbies, reading and anything else you would like time for in your personal life. 
When you do this exercise, you will be surprised how much time you actually have. You have a lot more time than you think. It's this exercise—putting everything together as you would like it on one calendar that you get to see this. 
Now, it's unlikely you will be able to start living this perfect week immediately, that's not really the point of the exercise. The goal is to merge you real life calendar with this calendar over time. To give you a benchmark, it took me nearly two years to merge my real life calendar with my perfect week calendar. It was a fantastic exercise (and project, in a way). It was also fantastic to initiate a change and see how my life changed and how much more balance I was able to bring into my life. 
For me, I started with my morning routines. I put them into my calendar. Seven days a week and scheduled that in. It's 45 minutes every morning and one of my favourite times of the day. 
I then fixed in my exercise times and then rearranged my appointment availably that around the things I wanted to or needed to do . 
I should point out your "perfect week" calendar will always be a work in progress. Things change, and we change with them. I revisit my perfect week every six months or so to see how I am doing and look for ways that will improve it. 
It doesn't matter if you are a content creator, coach, admin staff or nurse. We all have the ability to take control of our lives and build the kind of week that empowers us, keeps us healthy—physically and mentally—and leaves us feeling in control of our destination. All you need to do is to decide where you want to spend your time. 
Now, finally, for those of you who work in a company that is obsessive about security and will not allow you to subscribe to your work calendar on your personal devices. This means you have some extra work to do. 
My advice is to use twenty minutes of your weekly planning time to copy out your meetings and appointments into your master calendar. I know this is extra work, but there isn't another way round it. You could live with two calendars if you wish, but in my experience you are inviting trouble with that approach.
Hopefully, there will be a few recurring meetings that can be fixed anyway. I know it's extra work ,but the effort will be rewarded. 
Well, I hope that helps you, Lisa. Than you for your question and thank you to you too for listening. 
Don't forget my Ultimate Productivity Workshop starts on the 3rd of February. Get yourself signed up today—you won't regret it. 
It just remains for me now to wish you all a very very productive week.