Episodes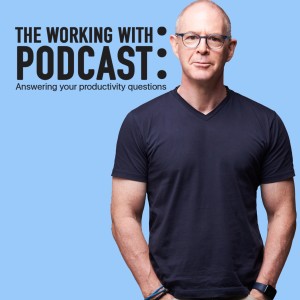 Monday Feb 27, 2023
Monday Feb 27, 2023
Podcast 265
This week, why not consistently doing a weekly planning session is destroying your productivity.
You can subscribe to this podcast on:
Podbean | Apple Podcasts | Stitcher | Spotify | TUNEIN
Links:
Email Me | Twitter | Facebook | Website | Linkedin
The Working With… Weekly Newsletter
The Time And Life Mastery Course
The FREE Beginners Guide To Building Your Own COD System
Carl Pullein Coaching Programmes
The Working With… Podcast Previous episodes page
Episode 265 | Script
Hello and welcome to episode 265 of the Working With Podcast. A podcast to answer all your questions about productivity, time management, self-development and goal planning. My name is Carl Pullein and I am your host for this show.
This episode is for the 95% or so of you who are using a task manager and a calendar and not doing a weekly planning session. 
The truth is, if you're collecting all this stuff and then not planning out when you will do anything about it, you're heading for a catastrophic failure. It's why so many people are constantly switching apps—it forces you to actually do some planning and organising, but it also stops you from doing any work. 
All this stuff we are collecting is information. Information we want to be reminded of, perhaps do something with or delegate it. Yet, if you are not doing any kind of planning, most of this information will get lost inside your task manager or notes app and you've just created a horrendous list of stuff you've made no decisions about. 
They often say information is power. This is not strictly true. Information is only powerful if you act on it. We all know how to lose weight, and we also know it is dangerous to be overweight for your long-term health. Yet statistics show that 60% of the US adult population is dangerously overweight. So there's clearly a large number of people not acting on the information they have. 
However, once you do become consistent with your weekly planning (and daily planning to an extent), you will see some incredible results. The first thing you will notice is how relaxed you've become. Knowing you have the week planned, that nothing has fallen through the cracks and you're ready to get started leaves you without any worries or anxieties. You'll wonder how you ever survived without it. 
Anyway, enough of me going on about weekly planning, let me now hand you over to the Mystery Podcast Voice for this week's question.
This week's question comes from Amy. Amy asks, Hi Carl, I've taken your Time Sector course and it's completely changed my life. I feel so much more in control of what I am doing each day. The one area I really struggle with, though, is the reviews. I try so hard to sit down at the weekend for an hour to go through everything but keep avoiding it. Do you have any tips or tricks to help me become better at these? 
Hi Ally, thank you for your question. 
I suspect a lot of the difficulties with motivating ourselves to do the weekly planning sessions is because we've come to think it's going to take at least an hour. The truth is, if you are consistently doing these sessions, you will soon find it takes you less than thirty minutes. Mine, for instance, takes around twenty minutes for the most part, although I do often do a longer one on the last Saturday of the month. 
Let's first look at the timing of your weekly planning session. I did quite a bit of experimenting with the best time to do this. 
Turned out, Sunday nights was the worst time to do it. You spent all weekend worrying about all the things you think you needed to do next week and it felt like Sunday night was the beginning of your working week. Plus, it can be very hard to motivate yourself to get up and go to a quiet room to do some planning when you are fully relaxed. 
Friday afternoons looked promising, but I found I was tired and just wanted to get home. 
I found the best time to do the weekly planning session was actually Saturday morning. The reason for this was I had no excuses. It's the first thing you do on Saturday morning and generally, you can wake up a little later and you feel well rested. Plus, the week is still fresh in your mind so it's less likely you will forget anything. 
The biggest benefit, though, is once you've done it, you can relax and enjoy your weekend. Your brain isn't going to throw up anything that you may have forgotten and you feel a lot less stressed and in control. 
So the first tip I would suggest is do your weekly planning first thing Saturday morning. 
Next what do you include in your weekly planning? 
Well, the first thing to do is to clear your inboxes. Hopefully, your email inbox is relatively clear already, but here I mean your task manager's and notes' inbox. What you are doing is organising everything you've collected and deciding when you are going to do the tasks. 
Once your inboxes are clear, you look at your This Week folder to see what's left over and decide a) if you still need to do it and b) if you do, decide when you will reschedule it to. 
Then move to your Next Week folder and move any tasks in there that need pulling forward to This Week. 
Once you have done that, open your calendar, and add dates to those tasks for the days you have the time to do them. Your calendar will guide you towards the best days to do the longer tasks. 
The goal here is not about what you get done on an individual day, it's more about what you get done in the week. So if you don't complete all your tasks on Monday, all you need do is move any unfinished tasks to later in the week. 
Another quick tip here, always keep in mind new tasks will be coming in that need to be done that week. This is why you do not want to be filling your days up. It's okay to have one or two days where you may stack the tasks up, but do keep a few days relatively easy for those additional tasks you will inevitably collect. 
Now, this week, I introduced a new concept for helping people be more consistent with their weekly planning. I call it the Weekly Planning Matrix and it's made of of four squares. These are:
Core work, Projects/issues, Personal/ areas of focus and the radar. 
This matrix should be used t get you started once your inboxes are clear.
The first box, your core work, will be fixed. It will be the same each week. These are the tasks that get your primary work done. Your core work is the work you are paid to do, not the ancillary work we've added. For instance, if you are a salesperson, your job is to sell. It is not to sit in meetings with your colleagues and boss talking about sales. Your core work happens when you are in front of your customers making sales. Admin is not core work unless you are an administrator. It might be necessary, but it is not core work. 
When you set up your weekly planning matrix, you write out your core work and there is remains until your job changes. The reason it's in the matrix is you need to know you must find time for doing this work each week. 
Next up in the top right, is your projects and issues area. This is where you list out the projects you want to, or need to, work on that week. It also includes any issues that need resolving related to your work. Just getting these off your mind will ease the anxiety. 
Be careful here, you do not want to overloading this area. Remember you will only have around forty hours available for all your work. Overloading this area and either you will have to steal time from your personal life—which should only ever be used in extreme circumstances—or you will find important things will be sacrificed for the loud less important things. 
Next, in the bottom left of your matrix is the personal and areas of focus area. This is where you will list out the important personal things you need to get done that week. It's also where you would highlight any areas of focus that may have been neglected over recent weeks or months. What can you do to get them back on track. 
Finally, there is my favourite area. The radar. This is in the bottom right of your matrix and it's for all those things you want to keep an eye on. 
It's quite hard to explain what the radar is in word, but imagine you are sat in front of a radar screen with everything going on in your life represented as little dots on the radar screen. You cannot focus on all of them at once, you have to decide which ones to look at. It's these you will list down in this box. 
I use this for things I might be waiting for, issues or projects that, while don't need my personal input, maybe something I want to keep an eye on. I also use it for projects or appointments that are coming up that I want to be thinking about that week. 
And that's it. Once I've written things out in this matrix, I can transfer tasks to my task manager if they are not already there, schedule time on my calendar to work on things if I need blocks of time for them and to make sure that what I am asking of myself that week is realistic and balanced. 
If you keep your matrix in your notes app, you have a reference point to start from the following week and you see how you did again your plan. You also have a working document you can use each evening for when you plan the next day.
Oh… Did I not mention the daily planning? Well, this is a simple task you should perform each evening before you finish the day. All you are doing is confirming that you upcoming day is realistic—that you haven't overloaded it with things you know you will not have time to do.
It's also a good time to look at your task manager's inbox to make sure there are no fires in there and to clear it if you have time. You should also look at your calendar to make sure you know when your appointments are and look for gaps in between commitments where you can decide when you will do your tasks.
It's amazing how often you will find you have say six or seven hours of meetings and twenty plus tasks scheduled for the same day. I mean, who are you kidding? You're not going to get all that done. You need to go into your task manager and reduce the number of tasks or cancel some appointments. 
And that's the fine art of prioritisation. Which is another subject altogether. 
So, in total, Amy, your weekly planning will take no more than thirty to forty minutes, and the daily planning should take around ten minutes.
It will take longer initially, you're learning new habits and developing new processes. It's worth sticking with because over time you will find you can shortcut the process and make it even faster when the need arises. For instance, I have a quick closing down planning session I can do in two or three minutes if I need to. I don't like t odd that everyday, but on my rare days off, if we are out for a trip somewhere and I get home late, I will do the 2 minute planning session. 
SO, there you go. That's how to perform the daily and weekly planning sessions. I hope that helps, Amy. Thank you for your question. 
And thank you to you too for listening. It just remains for me now to wish you all a very very productive week.