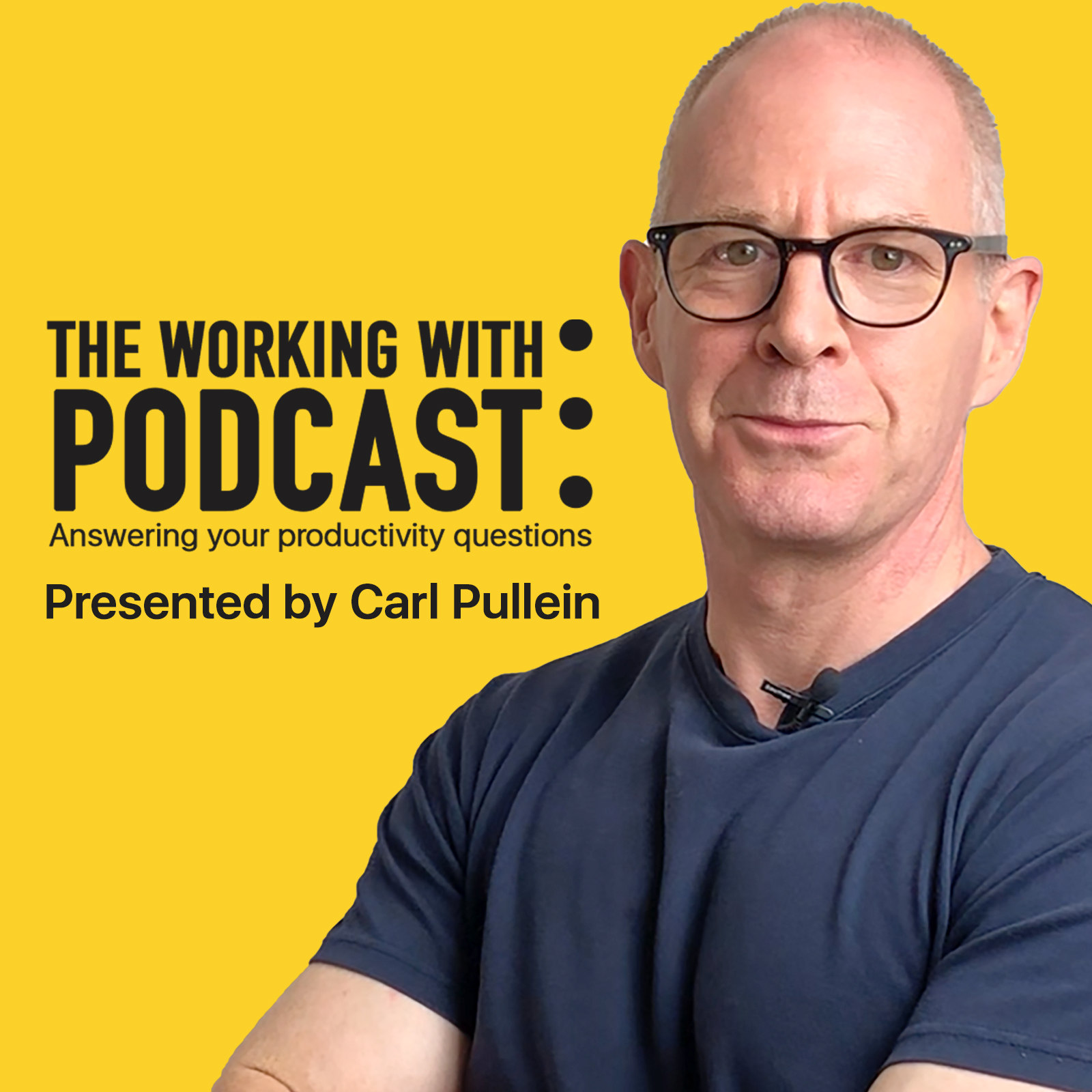 Spring is just around the corner and that means we are entering the Spring cleaning season. What's the best way to do that? 
Links:
Email Me | Twitter | Facebook | Website
Productivity Masterclass | Create Your Own Custom Workflow
The FREE Beginners Guide To Building Your Own COD System
Carl Pullein Coaching Programmes
The Working With… Podcast Previous episodes page
Script
Episode 124
Hello and welcome to episode 124 of the Working With Podcast. A podcast to answer all your questions about productivity, time management, self-development and goal planning. My name is Carl Pullein and I am your host for this show.
This week we are exploring the concept of the Spring clean and decluttering our stuff. Decluttering is a subject particularly close to my heart this year and it's something I do every year.
And speaking of spring cleaning and decluttering That's exactly what I am doing with my Learning Centre this month. I am cleaning out some my older legacy courses and that means you can pick some of those up for only $10! 
These courses are packed with great tips and tricks as well as know-how and in many cases workbooks and worksheets. They've been around a while and have helped thousands of people build great productivity systems, develop goals, get out of control email tamed AND developed the foundations of a successful life. 
If you want to learn a lot for a small investment, then take a look at what's on offer. I am sure there's something for everyone here. You will have to be quick, these courses will be disappearing after the 31 March. Details of what's on offer are in the show notes.
Okay, on with the show and that means it's time for me to hand you over to the mystery podcast voice for this week's question.
This week's question comes from Annabel. Annabel asks, hi Carl, I did your Your Digital Life 2 course late last year and I have a system now. The problem I have though is all my files, documents and papers are a complete mess and I don't know where to start to get them all organised. Do you have any tips to clean this area up?
Thank you, Annabel, for the question. 
Now, as we are approaching spring, it is a great time to be thinking about cleaning up and organising our stuff. Did you know traditionally, the spring clean was done to clean out the soot left by oil lamps and fires used to light and warm homes in the winter? And going back even further many religions and cultures have used the spring and approaching easter to clean alters and begin the new religious year. So the spring clean has a lot of history and customs. 
Now for us in the digital world, a spring clean gives us the opportunity to clean up our stuff. We have probably collected a lot of files, documents, notes and other such stuff over the year—or years—that are just gathering digital dust somewhere on our hard drives or cloud storage systems and spring is a great time to clean these up, archive the old and delete a lot more. 
Here's a thing. Email. I know we collect a lot of emails over the years and we leave them in our archive folders or in special folders we added to manage a project or an email heavy exchange with a colleague. The trouble is we rarely clean these out and delete them so they build up over time. Now with email there will always be a copy of the mail. If you sent an email the person you sent it to will have your email. If you received an email the person who sent you the mail with have the original mail. So, never worry about deleting old emails. Cleaning up your email not only makes you feel better, but it also speeds up your whole system. Start with your email guys. Delete, delete and delete some more. 
If you want to save an email because it has some sentimental value to you, then export it as a PDF and save it in a folder called "keepsakes" or "memories" or something like that. That way it's outside of your email, but you still have a copy of it somewhere. 
A quick tip for these keepsake or memory folders. Review them each year when you do your spring clean. I find I delete a lot of the stuff I saved there each year so only real sentimental items stay there. It's surprising after another year passes how unimportant some of these emails, photos and documents can be.
Next up your computer's hard drive. Now hopefully you no longer keep files, photos, documents and stuff on your computer's hard drive. I hope you are using cloud storage for these now. Aside from the risk of losing these documents and folders if your computer crashed or died, you also need to have your computer with you at all times if you were to have access to them. No, don't do that. Cloud storage is cheap and it's safe and secure. If your computer, phone or tablet dies, is lost or becomes corrupted, you still have your files safe and secure online. 
That said, we still need to hold the apps we use on our computers so clean up these. Are there any apps you are no longer using? Are there any apps you have not used at all in the last twelve months? Delete these. If you do need them again in the future you can always re-download them.
Just a quick tip on your media files. I have a lot of old movies and TV shows that are not available on Netflix or other streaming services. A lot of Cary Grant movies as well as my James Bond Collection, The Professionals (remember Bodie, Doyle and Cowley?), Inspector Morse and Ally McBeal are all on a 2 terabyte external hard drive I keep velcroed to the side of my desk. This hard drive is for my digital media so my Apple Music, Films and Podcasts are all there as well as archives of my photos going back at least ten years. None of these are on my computer's hard drive. And because some of these TV shows would be almost impossible to retrieve if I lost them, I have them backed up on another external hard drive. A 2 terabyte hard drive is going to cost you less than $100 these days and will last you many years. So get your media backed up and off your computer's hard drive.
Now for your folders and documents. For me, I find organising these by year is the most effective way. This way I can easily remove older files without having to go through them one by one. At the beginning of each year, I create a new parent folder called, in this years case, "2020". Inside there I can keep my project folders, client folders for this year and anything else I am working on this year. I began doing this around ten years ago now and each spring I just archive the previous year's folder. So, this spring, my 2019 folder will be moved off to an external hard drive. 
Now what I keep in here are projects that are completed, workshops I did last year and my email archive (which I download as an archive file through my Mac OS Mail app.) Old client files will also be in here and anything this else I am finished with.
What will not be in here are my online course folders as these get updated each year so the folders remain relevant and current, my folders related to my YouTube channel, this podcast and anything else that is still active. They stay in my current folders in iCloud. 
Now, I should point out how you organise your files and documents is entirely up to you. You need to develop a way that works for you. For me, organising by year has worked incredibly well. If I need to find something from a few years ago, I can attach the relevant hard drive (they are all labelled by year and do a Spotlight search and I will be able to find it. 
I think we sometimes forget that our computers are incredible at finding stuff. You no longer need to develop an elaborate file system. You only need a place to store the files. For me, I do it by year, you may prefer to do it by subject or client. Chose a way that works best for you. 
I find the hardest part of decluttering and cleaning up is letting go. We have this false belief that we will need a file or a document sometime in the future, yet almost every time we never do. If you clean up and move stuff off to an external hard drive you have not lost anything. It's still there. It's now on an external hard drive and no longer taking up space on your computer or in your cloud storage. Just let it go. Once you've bought the external hard drive, it's not costing you anything to keep it. 
The final part of your spring clean is to look at how you are organising your stuff. A great question to ask yourself is: "can I find everything I need when I need it?" If not, take a look at how you are organising your files. I use a simple role-based structure. That means my work is divided by my businesses and my personal work. So, I have three areas. My productivity business, my English language business and personal. The basic structure inside these areas does not change on a year to year basis so all I have to do is remove old stuff I no longer need and move them to my year folders. 
I do keep the same basic structure in my year folders too. So the three areas are child folders inside my year folder. That way I find it easier to find stuff when I need to find it. 
And that's really what it's all about. It's about being able to find stuff when you need to find it. That's why how you organise everything needs to work for you and don't just copy someone else's structure. I did that in the past. I saw a video years ago where David Allen showed us how he processes his stuff and organises Evernote and files and I spent weeks trying to set up the same system. What a complete waste of time. It did not work for me at all and it soon became unwieldy and unmanageable. David Allen spends a lot more time processing and organising than I have time for. That's why it did not work for me. 
So I urge you to find your own path. A basic structure such as organising by year or by role—your work and your personal life is a good place to start, but how you organise your sub-folders that needs to work for you and the way you think. 
My working life began in the 1990s so I became familiar with filing cabinets and the alpha-numeric way of filing. That has followed me through to the way I organise my files now. My tagging in Evernote, my tagging on my computer, for example, are all organised in a simple alpha-numeric way. This might not work for you. I've seen people organise folders with the letter "P" or "W" at the beginning to indicate a personal or work file and I've seen professors organise their work by the subject code and year which makes absolutely no sense to me, but works seamlessly for them. 
So please, I urge you to work out the best way for you. The way you think so finding your files is instinctive and easy. 
The final point I should make is you need to keep things as simple as possible. When you file today you need to be filing for your dumb self tomorrow. It might be fantastic to come up with an elaborate organisation system today, but in three or five years time you will probably be unlikely to remember how you were organising things. So keep things as simple as you can. Think about how your dumb self tomorrow with try and find a file. Use that system.
Thank you again, Annabel for your wonderful question. And thank you to all of you for listening. Don't forget if you have a question you would like me to answer, all you have to do is email me at carl@carlpullein.com or DM me on Facebook or Twitter. All the links are in the show notes. 
It just remains for me now to wish you all very very productive week.