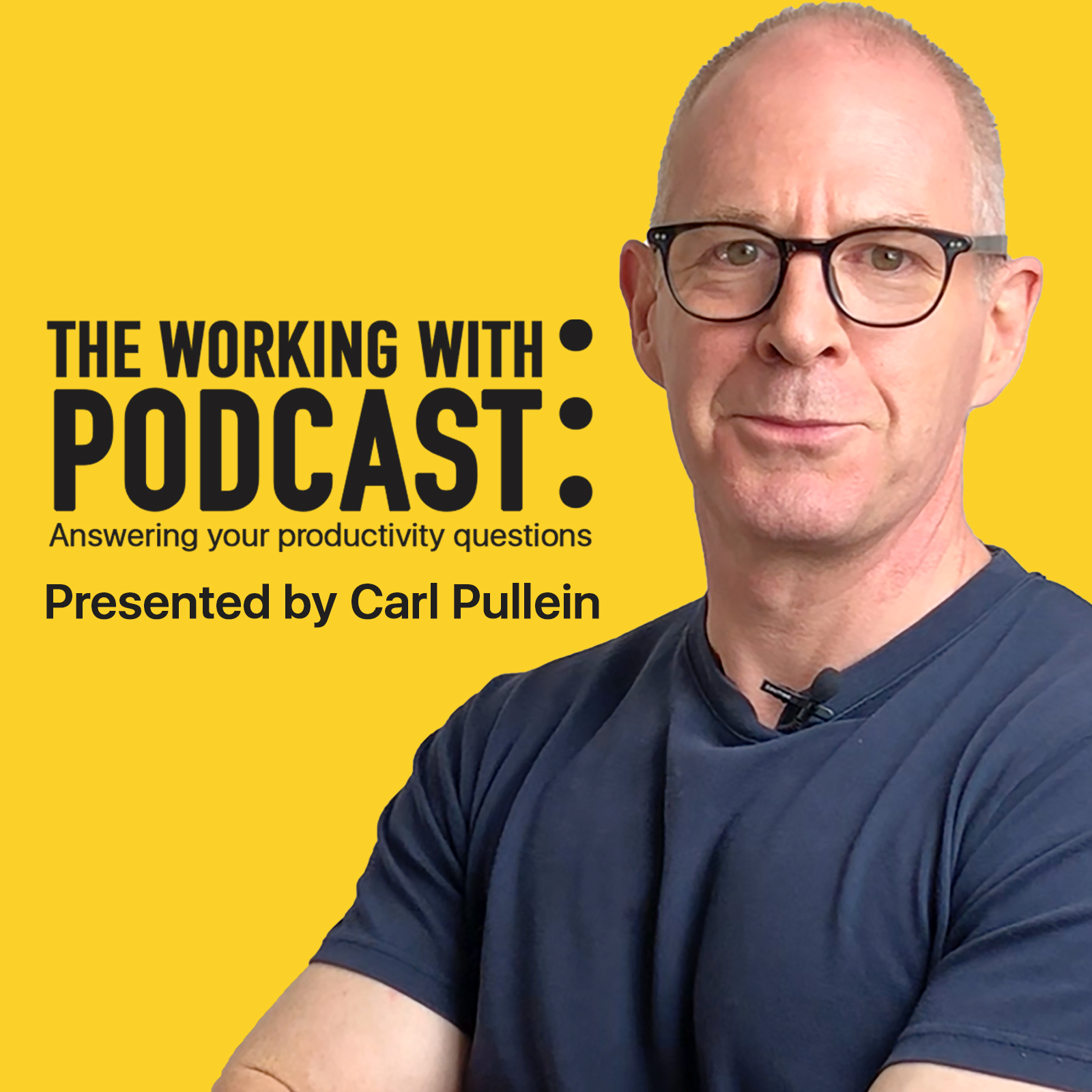 Have you started planning what you want to accomplish next year? If not, this week's episode is a special episode to help get you started with your planning.
Links:
Email Me | Twitter | Facebook | Website
Business Productivity Mastery Webinar Registration link
Get 2 FREE months of Skillshare Premium using this link
Life & Time Mastery Workshop, Scunthorpe 28 December 2019
The FREE Beginners Guide To Building Your Own COD System
Carl Pullein Coaching Programmes
Create Your Own Apple Productivity System Course
The Working With… Podcast Previous episodes page
Script
Episode 108
Hello and welcome to episode 108 of the Working With Podcast. A podcast to answer all your questions about productivity, GTD, time management, self-development and goal planning. My name is Carl Pullein and I am your host for this show.
This week's episode is a little different in that there's no question and instead I want to talk to you about why you should be planning 2020 now. 
Now before I get to that, I'd like to invite all of you to join me and Kev Blackburn in a webinar later this week. It's on Saturday 16th November and we are going to show you how to balance a full-time job with a side project. That could be a business or a hobby you want to develop 
All the details for the webinar are in the show notes and if you are following me on Facebook or Twitter I will be sharing the details there. 
Okay, why should you be planning 2020 now?
Well, one of the many reasons why so many people fail to accomplish their yearly plans and goals is because often they get to the end of the year, that break between Christmas and the new year and start to think they should be doing something about plans for next year. This neither gives you the time to really think about what you want nor does it allow your subconscious mind to develop creative ways of making them happen. 
Okay, before we go further, I have an annual planning sheet you can download for free from my website that can help you with this process. Just go to carlpullein.com and click on downloads from the menu at the top of the page. Everything on the downloads page is free. 
So, how do you go about planning for the new year? First brainstorm ideas. Now, this does not mean you sit down for an hour or two and think about what you want to do, what it means is creating a note in your notes app or a piece of paper and adding to it over the next week or two. Anything that comes to your mind—write it down. When you allow your subconscious mind to do the work for you you will find you come up with things you haven't thought about for years. Trust your subconscious. It rarely lets you down. 
So what areas of your life should you be thinking about? Well, first think about what you would like to change about yourself? Are you a "yes" person. Do you tend to say "yes" to new things a little too quickly? Are you a little lazy? Are you terrible at seeing plans through to the end? 
When we dig deep it can be surprising what we find that could do with changing. This is why giving yourself plenty of time to let these things bubble up to the top is important. 
Next up is lifestyle. What would you like to change about your lifestyle? Are you happy with the way you live? Would you like to move house? Change the way you travel to and from work? Change your daily routines? There's a lot in the lifestyle section you could look at changing. Eating habits, social life, where you take your vacations. Put everything up for review. After all, the way you live your life is often the driver for your long-term success. If you spend all your free time vegetating on the sofa watching mind-numbing dramas, your health will suffer in the long-term and no matter what your plans are in the future you will never get chance to do them. 
How would you like to change the way you work? This is quite a general question but the idea is to get you to question the way you work today. Are you happy? Do you enjoy the work you do? Are you starting and finishing your work at reasonable times? Do you want to change that? There's a lot here you can think about. 
The goal with the questions you ask about your work is to push you to do work that makes you proud. Work that leaves you feeling satisfied when you come home at the end of the day. The saddest thing for anyone is to be doing work that leaves you feeling empty and unfulfilled. Often it is not about changing your work or job—that can be very difficult—often it is about changing the way you look at your work. 
I always found doing the daily admin boring and tedious. It was something I just did not enjoy doing. But, it is an essential part of the work I do. Student attendance records, feedback to the people who need feedback from coaching sessions. I always used to look at that part of my work as something not to look forward to. 
It was when I realised that the admin and paperwork was an essential way for me to grow my company. To be able to measure my performance as well as the performance of my students and coaching clients that I understood that this was another way I could help my students and clients even more and the admin allowed me to analyse where I could make improvements and grow my business. 
Now, this part of my work is something I look forward to doing. Writing the feedback is another way for me to help people and, for me, it is when I help people with their performance in life that I feel satisfied and happy with the work I do.
So, switching the way you look at your work could be all you need to change the way you feel about your work. Alternatively, it could be you want to change the type of work you do. If that's the case, a question to ask is what do you have to do to do the career you want to pursue? Do you need to return to college? What extra training do you need? 
Next up comes the challenge section. What can you do next year that will push you and challenge you? What have you been putting off that you know you should do but for some reason—fear or just not knowing exactly what you should do—you have not done anything about? This year I chose to get my hernia fixed. My fear of surgery had prevented me from doing anything about it, but it was preventing me from exercising in a way I wanted to exercise. It was a very hard decision to make, and in the end, I was forced into it. But I went through with it. Not only have I now fixed my hernia, I have also learned that there is very little I need to be fearful of. 
Have you been putting off asking your partner to marry you? Have you always wanted to run a marathon but for one reason or another never committed yourself to do it? Challenging yourself is one way you can push yourself to grow. It also toughens you up mentally because once you realise you can do these things you have put off, you begin to realise you are capable of much more than you think you are. 
Then you should think about the goals you want to achieve next year. Goals are the driving force of your energy every day. Often once you have completed the other parts, your goals will reveal themselves. When you look over your list you will see obvious goals. Running that marathon, or getting the extra qualifications so you can pursue the career you have dreamed of can all be turned in to goals for next year. This is why the goals section of this process comes towards the end. 
One of my goals for next year is a fun goal which is to take a photo every day for a year and post it to Instagram. I have a new iPhone 11 Pro and that comes with an incredible camera. This means I can resume my hobby of photography. So, I have have been researching creative iphoneography techniques and I have relearned how Adobe Lightroom works. It's a goal I am really looking forward to because not only will I have a record of my whole year, I will also be doing something to grow my creativity. 
Finally, there is your bucket list. We all have a bucket list of some sort. Either it is written down in a journal or in an app like your Notes app or just in your head. Either way, choosing something from this list turns it from a wishful list to a reality list. My bucket list item for next year is to go to Australia. So when my wife finishes her master's degree in August, we will head off to Australia to do Tony Robbins' Unleash The Power Within together and then spend a few days exploring Sydney. That's going to be a trip of a lifetime!
So there you have it, the six areas you can spend some time over the next few weeks thinking about. Developing ideas and from around the middle of December turning them into actionable steps you can take from day one… That is 1st January. 
That's how you turn a year into a successful year. By giving yourself enough time to think about what you would like to accomplish before the first day and developing those ideas into something concrete and actionable. It's not hard, in fact, it's a lot of fun. 
I hope you found this special episode useful. Remember it's about collecting ideas, thinking about them and deciding what you will pursue next year. You don't have to do everything you add to your list next year, there's always 2021 and beyond. After all, most people overestimate what they can achieve in one year and underestimate what they can achieve in ten years. Play the long game and you are much more likely to accomplish the things you want to accomplish.
Thank you for listening to this episode. It just remains for me now to wish you all a very very productive week.