Episodes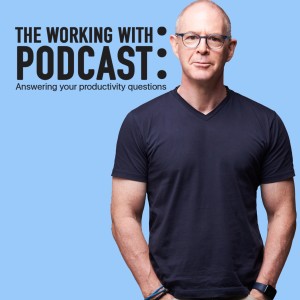 Monday Feb 06, 2023
Monday Feb 06, 2023
This week's question is all about building success into your life and why to do it, you need to become boring. 
You can subscribe to this podcast on:
Podbean | Apple Podcasts | Stitcher | Spotify | TUNEIN
Links:
Email Me | Twitter | Facebook | Website | Linkedin
The Working With… Weekly Newsletter
The Time And Life Mastery Course
The FREE Beginners Guide To Building Your Own COD System
Carl Pullein Coaching Programmes
The Working With… Podcast Previous episodes page
Episode 262 | Script
Hello and welcome to episode 262 of the Working With Podcast. A podcast to answer all your questions about productivity, time management, self-development and goal planning. My name is Carl Pullein and I am your host for this show.
It's strange how themes crop up and then suddenly I see the theme everywhere. This week, that theme has been all about how to turn something into a success and why so many people fail. 
It's sad that the media only show the fruits of success—showcasing expensive houses, exotic holidays and flashy cars. That may be the results of living a successful life, but it is not how you become successful. The way success is trailed would make anyone feel that only a lucky few can ever be successful, yet that is simply not true at all.
Success has nothing to do with where you were born, what school or university you went to, whether you have wealthy parents or were lucky enough to win the lottery. Success has nothing to do with genetics or background. 
Whether you succeed or not depends entirely on the choices you make and how you define success. When I see so called instagram influencers living it up on expensive looking yachts or standing at the steps of a private jet, I turn off. I do not see that as success—that's showing off. Success should be measured by you and what you achieve and ultimately what you contribute to this amazing world. 
So, before we get to this week's question, just pause for a minute an ask yourself what you would have to achieve in order for you to consider yourself a success? 
That could be to complete a full course marathon, to raise your children to be respectful of others or it could be to solve a global problem. However you define success, that needs to be your starting point. If you don't know what that is, you will have no information on which to build a strategy. 
Okay, enough of my rambling introduction, let me know hand you over to the Mystery Podcast Voice for this week's question. 
This week's question comes from Roger. Roger asks: Hi Carl, I recently took your PACT course, and was curious to know if you still follow those ideas and whether you would add anything to the cours e today. 
Hi Roger, than you for your question.
Okay, before we start, I should explain to those who don't know, I have a free course in my Learning Centre called PACT. PACT stands for; Patience, Action, Consistency and Time. It's a course that gives you a framework to achieving success at anything. In the course, I used building a blog, podcast or YouTube channel as examples, but you could apply to principles to anything and you will be successful. I'm willing to guarantee that.
However, one thing I know is 95% of the people who set out to succeed at something will fail. Why is that? It's because to become successful at anything you need to become boring. You will also likely have to ditch quite a few of your friends and stop seeing some of your family members as well. 
It's this sacrifice that most people are unwilling to make. 
Now, if you have read Napoleon Hill's brilliant book Think And Grow Rich, you will know about "Burning Desire". It's this burning desire that Napoleon Hill discovered was the common denominator among the thousands of highly successful people he interviewed for the book. They knew exactly what they wanted to achieve and set about single-mindedly to achieve it. The excluded everything from their lives that distracted them from achieving that success. 
One example, Napoleon Hill gave was Edwin Barns' single-minded determination to work with (not for) Thomas Edison. Edwin Barns' gave up everything he had, boarded a freight train and traveled to see Thomas Edison. 
He started out cleaning Edison's offices. Never complained and just worked his way up. Never forgetting his desire to work with Thomas Edison. 
After five years of hard work, he got his chance and took it. Barns promised Edison he could sell the Edison Dictating Machine, a machine Edison was having difficulty in selling. 
Barns never lost that burning desire and became a fabled rags to riches story. 
Barns' story epitomises how to become successful at whatever you want to be successful at. The problem, for most people, is you need to make sacrifices and sadly, most people are not willing to do that today and instead will reach for all the excuses they can find—the excuses that successful people abandoned years ago. 
In many ways, becoming successful is all about shifting your mindset from one that will happily accept any excuse to one where you no longer accept them. A trick I use is if ever I catch myself saying words like "I can't" or "I don't have time" I stop myself and ask "why?" 
Interestingly, almost always the answer is: I don't have a desire to do it. To me that's not an excuse. That's being honest with myself. I'm fascinated with NASA's 1950s and 1960s space programme. I will read articles and books and watch documentaries on the amazing things those pioneers at NASA achieved. Yet, I have no desire to go to the moon. 
To me PACT is all about becoming successful. You need patience because success in not going to come overnight. No matter what the media tells you. You have to start somewhere, and more often than not that start will be at the bottom. You don't walk out of university and become the CEO of Google, Apple or Coke a Cola on your first day. You have to start at the bottom and work you way up. 
But more than just having patience you need to take action. You need a plan or a strategy from which you will take action that will lead you towards becoming successful. It's likely you will need to change your plan—adjust course from time to time—but the overall objective is never lost. 
It's here where goal planning comes into the mix. The overall desire to achieve something is going to be far off into the distant future. The college graduate with the desire to become the CEO is likely to have a twenty to twenty-five year apprenticeship. This means the long-term desire needs to be broken down into bite sized chunks. Chunks you can focus on each year. From being a fresh recruit, you might set the goal to become a supervisor in two years, a manager after a further two years etc. This helps you to stay focused. 
And then you need consistency. The quality of your work needs to be consistent, your approach to your work needs to be consistent and your daily actions needs to be consistent. 
It's this consistently doing the right things day after day where you develop mastery. 
I mentioned in a previous episode one of my favourite TV shows, BBC's The Repair Shop, those skilled craftspeople have repeated their skills day after day. Susie Fletcher, the leather specialist, sews leather every day. She began her passion for leather crafting when she was thirteen years old. Forty years later, she's still passionate about working with leather and repairing leather goods. Consistently using the skills she learned many years ago day in day out. 
And it's being consistent with the simple things. I'm still shocked at the number of people who do not consistently do a weekly planning session. How will you ever be successful at what you do if you are always reacting instead of giving yourself thirty-minutes each week to step back look at what you are doing and to plan out the week ahead. It's that weekly planning that will keep you on the right path. It will stop you from being distracted by the unimportant and keep you focused on what's really important to you. 
And finally, you need to take your time. To be successful at anything you need time. Time to develop your skills and knowledge and time to build experience. You cannot short circuit this. Sure, you can go out and buy subscribers on YouTube or Instagram, but you will know they are fake and these subscribers will not be engaging in your community. It doesn't take long for others to see through your charade anyway. 
I've noticed that for a blog, podcast or YouTube channel to really start to grow it will take on average four years. Four years of consistently taking action every week. It's the same with most businesses. You will not likely be earning a consistently good income for the first four years. It will be hard, difficult and often painful. But if you apply the PACT principles, you will more than likely get there. 
Your journey to success is a personal journey. The sacrifices you will need to make will be different from other peoples sacrifices. Some of you will achieve the success you want quickly, others will take a lot longer. That's absolutely fine because ultimately, it's not really about whether you become successful or not. It all about becoming a better person each day. 
It's that sense of continuous improvement that leaves you feeling fulfilled and feeling a lot less stressed and worried. It's as if you know you are on a mission and some days won't be great, but others will be and as long as there are more great days than bad, you will be making progress. 
So to answer your question more directly, Roger, no I wouldn't change anything about the course. PACT still works. Its formula has helped many people, including myself, to build a business, blog, YouTube channel or podcast. Or all of them. 
I recently wrote a blog post on three keys to success. These three keys are research, experiment and practice. They fit into the PACT model in a way. The first step is to decide what you want to accomplish, but after that you need to do research. Find the people who have already achieved what you want to achieve or something similar. That will give you the blueprint to success (or the strategy you need if you like) 
After that, you need to experiment. The blueprint you found worked for someone else, it's not likely to work for you exactly—that would be copying anyway. Instead you take the blueprint and modify it to better fit you. That where you need to experiment. 
After that, you need to practice and keep practicing. You're developing your craft, your expertise and there you need to be patient. You need to accept that it will be boring because you're following the same process day after day. However, following that process is something you will love doing because eventually you will see the results. It also makes your day a lot easier. You're not trying to reinvent anything, you already know what you do will result in something at the end of the day. Just keep following the process. 
And every once in a while look up, review what you are doing and modify where necessary. That will keep you on track. 
And finally, the best advice I can give you is to enjoy the journey. Embrace the good and bad and learn. That's where the fun is. 
Thank you Roger, for you question and than you for listening.
It just remains for me now to wish you all a very very productive week. 
Carl.