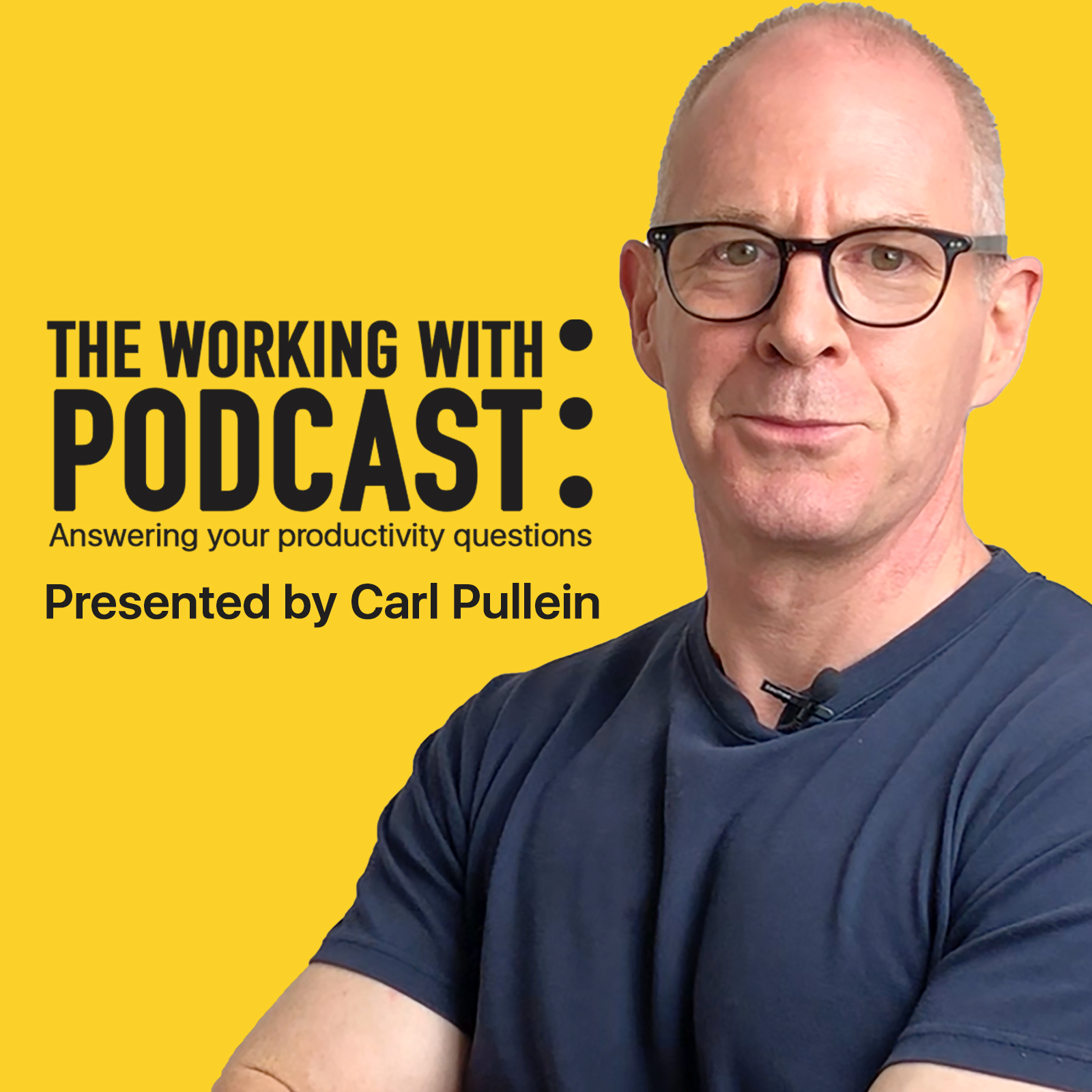 The weekly review. Are you consistently doing one? If not you might just be missing out on the one thing that will elevate your productivity to the next level 
Links:
Email Me | Twitter | Facebook | Website
Pathway To A Productive Life Bundle
The FREE Beginners Guide To Building Your Own COD System
Carl Pullein Coaching Programmes
The FREE Beginners Guide To Todoist
Live (ish) 2+8 Prioritisation Processing in Todoist
The Working With… Podcast Previous episodes page
Script
Episode 97
Hello and welcome to episode 97 of the Working With Podcast. A podcast created to answer all your questions about productivity, GTD, time management, self-development and goal planning. My name is Carl Pullein and I am your host for this show.
This week, we have a question about the weekly review. Should you be doing one every week and would a daily review be more effective?
But before we get to that as we are heading towards the end of the year—there are only four months left—now would be the right time to get yourself set up for the new year which this year will be the start of a new decade. 
So more than ever before, starting the year right is going to be crucial if you want the next decade to be the best decade you've ever had in terms of your finances, your life pursuits and goals. 
To help you, I have a bundle of courses designed exactly for you to help you build the right goals, have the right systems in place and to have a plan in place ready to hit the year not just running be at a sprint. 
So I urge you to take a look at my Pathway To A Productive Life bundle, take the courses over the next four months and be ready to start 2020 with the right plan and the right system for you. This bundle includes, From Disorganised to a Productive Life, Your Digital Life 2.0 and Time and Life Mastery 3. And all for an amazing price of just $145.00. That's a tiny investment to set yourself up for an amazing decade.
Okay, on to this week's question and that means it's now time for me to hand you over to the mystery podcast voice, for this week's question. 
This week's question comes from Angela. Angela asks, Hi Carl, I keep hearing that it is important to do a weekly review every week, but I am so busy, the last thing I want to do is look at my to-do list on a weekend. Do I really need to do a weekly review or would a daily review, say Monday to Friday, be okay?
Hmmm okay, where do we start with this one? 
One of the biggest parts to becoming better organised and more productive with your time is knowing what needs doing and by when. This is where the weekly review comes in. It is the part of your week where you can sit down with no distractions or interruptions and for around forty-five minutes go through all your projects and tasks to see what needs doing. It gives you a big picture view of everything you have going on in your life. 
You see, without that big-picture view, you are going to miss something. A project deadline will get missed, a task does not get done when it should be done, an important call not made when you said you would make it and your partner's birthday gets forgotten. None of these things is nice, but that's what happens when you miss your weekly review. It might not happen every week, but over time these things will happen. 
Another reason for doing a weekly review is it puts you back in control of your time. It's when we don't know what's coming up and when - that makes us feel overwhelmed and stressed out. We feel out of control and that is not good for your productivity or your health. 
So when should you do your weekly review? Well, that depends on you. What you are looking for is around one hour where you will be uninterrupted. You will need your computer for this too. I've tried doing it on my mobile phone in the past but found the limited screen size does not allow me to see the big picture—my calendar and to-do list next to each other for example. 
For me, Sunday afternoon, after I finish exercising, is the best time. I am relaxed and I've completed my admin work for the week. I sit down at my desk, turn on some fantastic music and with a nice cup of Yorkshire Tea, I clear all my inboxes. 
And that's an important point. Part of what makes the weekly review so effective is it gives you time to—in the words of David Allen—"get clear". What that means is you have made decisions about all the tasks you have in your inbox and they are organised where they need to be organised. 
This also goes for your email and notes. Get all the inboxes clear. There's nothing better than to start the week with cleared out inboxes. 
Now a word of advice here, your weekly review is about reviewing, organising and clearing inboxes. It is not about doing. I wouldn't even apply the two-minute rule here either. The goal is to get clear and to decide what work needs to be done next week. The time spent on your weekly review is never about doing work it's always about getting clear and having everything processed and organised. Of course, if you have time once everything is clear, do some of those 2-minute tasks. 
Part of the reason you will feel busy, Angela, is because you have not identified what is important and what needs doing throughout the week. Not doing a weekly review means you are going to be reactive throughout the week as opposed to being proactive. 
And that's another reason why you should be doing a weekly review, it puts you into a proactive state. Without a complete review of what you have, what you are committed to and what deadlines you have coming up, you are going to be starting the week in a reactive state and that reactive state is where all the stress, overwhelm and feelings of being busy are. 
It is far better to begin the week, knowing exactly what you want to get accomplished and what needs to be done that week. You know where you need to be and with who and the decisions about what is going to be done, and when, have been made. 
I've seen it time and time again where someone hasn't done a weekly review they waste all of Monday morning trying to work out what to do next. When you have done a complete weekly review, you know exactly what you will do on Monday morning and by lunchtime, you could easily have completed 25% of your objectives for the week. 
So where do you start when you are doing a weekly review?
 Again, this is entirely up to you, but as a starter, start with your inboxes. Go through your to-list inbox and process. Organise your tasks into their projects or areas of focus. Then move on to your email inbox and do the same. Process. Move emails to their appropriate folders and if there are emails you need to reply to move them to an action folder. Again, I should stress don't do the replies, even if they will take only a few minutes. Now is not the time to be doing. Now is about getting clear. 
Finally, once you have your to-do list manager and email processed move on to your notes app and clear that inbox. Delete old notes you no longer need and then make sure you don't have any scraps of paper lying around with notes and to-does on them. Make sure you check any notebooks you use for action items and notes. 
Once all your inboxes are clear, it's time to go through all your projects in your inbox. Go through each one individually and with your calendar open at next week's view, identify which tasks in your projects can be done next week. 
Now, I don't usually date tasks beyond the following week unless they do need to be done on a specific date. Randomly dating tasks just creates daily lists of tasks that don't really need doing that day. Instead, I add a label to the very next task without a date in each project called "next actions". This means on days when I have been particularly productive, I can move into my next actions label and start working on those tasks. 
Now, that's just a basic overview of how I do the weekly review, the key thing here is you develop your own weekly review method. Everyone is different and everyone has different priorities. You will find you will modify how you do the weekly regularly, but eventually, you will settle on a way of doing it that works for you. The important thing is that you consistently do it week after week. It should never be a chore. It should be something you look forward to doing each week. It's like setting the reset button on your week. For me, it nicely ends the week and leaves me feeing relaxed, in control and ready for the week ahead. 
Now, you mentioned a daily review, Angela, and that is a good idea. But the daily review is just to make any adjustments to your weekly plan. Our weeks rarely go to plan and new priorities will come up from time to time. This is why I do my Golden 10 every evening. This is just ten minutes at the end of the day where I review my tasks for tomorrow and make sure they are still relevant. Last week, I did a video on how I do this and I will leave a link in the show notes for you to watch that. It's only ten minutes and will give you a complete picture of how a daily review should go. 
Now I should warn you, the first few times you do the weekly review properly, it will take you longer than one hour. But as time goes by and you develop a more efficient system for doing it, you will get faster. For me, it takes around forty to fifty minutes. I also know which project folders don't need reviewing every week. Folders such as my routines and Someday | Maybe folders don't need a review every week. I would normally review these once every two or three months. 
Okay, so there you have it Angela, the case for doing a weekly review. The biggest reason for doing it is it gives you clarity, peace of mind and ensures you are working on the things that are important to you. It gives you a plan and it makes sure you are not missing anything. 
I hope that has answered your question, Angela. Thank you and thank you to all of you for listening. Don't forget, if you have a question you would like answering, just email me at carl@carlpullein.com or DM me on Facebook or Twitter.
It just remains for me now, to wish you all a very very productive week.